The Social Media and Marketing Management Packages are a great way for a small business or a start-up company who wants to have a solid presence with little or no experience. Social Media and Marketing Management Packages are an important and crucial function of today's online businesses. Have a professional look and feel and social presence allows you to reach more people in less time and adds to the credibility of your company.
Many companies experience a lack of results from social media for a few key reasons:
1) They don't know how to effectively use social media to drive website traffic.
2) They don't understand how to develop and engage your leads. (create a call to action system)
3) And lastly they simply don't have enough time to manage all their social media sites.

The Social Media and Marketing Management process:
First, we have you fill out our social media questionnaire so we can learn more about the obstacles you are facing or have faced with social media management as it relates to your sales process. We then recommend the package that best fits your needs and budget. After choosing the right monthly program, we then setup your marketing "call to action" strategy. We then leverage all your activity from your social media pages as valuable tools for sales. Finally, we put the plan into action to tract your success.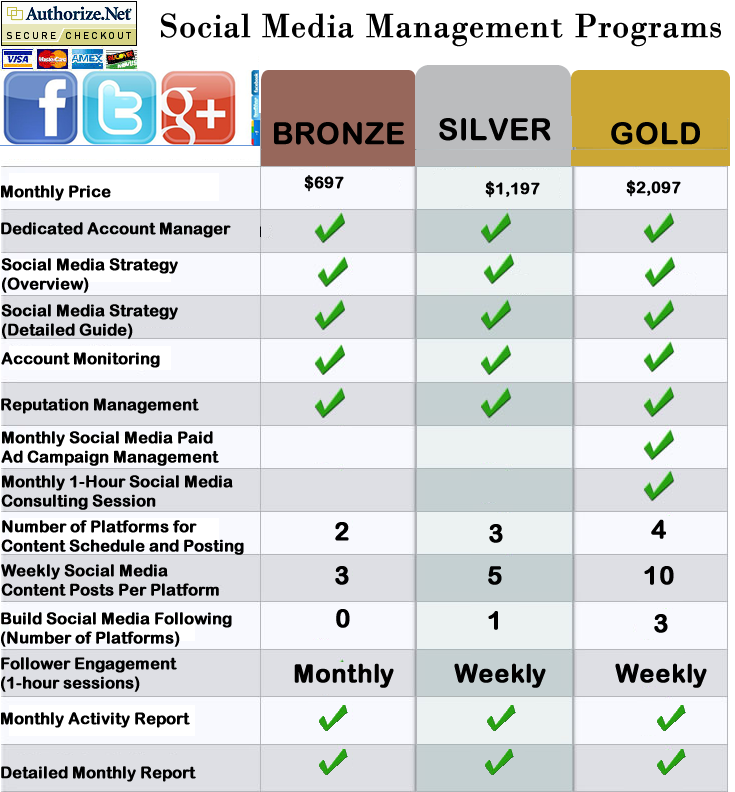 GOALS and RESULTS
Generate and engage your leads for your sales team to follow up (qualified Leads)
Increase traffic to your website through social media
Provide value added content and a consistent posting schedule
Monitor your accounts and maintain a positive social image for your company
Drive engagement on your accounts to increase interest with your prospects
American Website Company Policies:
The Client Supplies All Content, images and details.
American Website Company is not affiliated directly or indirectly with any other marketing or web design companies, unless otherwise stated through this website or other printed materials.
When Purchasing a program with American Website Company, please be sure to familiarize yourself with our Cancellation and Refund Policy.
100% Satisfaction Guarantee
We offer a Satisfaction Guarantee on all of our web design programs. If you are not 100% satisfied after your initiation period, we will do a free comprehensive evaluation and establish an optimal course for you and your website.*customers with pre-existing Facebook business landing pages that are not integrated with an API may not Be fully functional